I recently had the opportunity of receiving in the mail an original headband by Sweetest Bug Bows.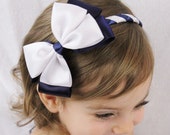 My youngest daughter began Kindergarten this year and in the city of Cleveland they are required to wear uniforms. Without much opportunity to express her inner divaness, my daughter likes to dress up the uniform with headbands and shiny shoes. For the first day of school she chose a blue and white bow headband from
Sweetest Bug Bows
that matched her uniform perfectly.
She wore it all day and was the talk of the classroom. She had compliments from other students and parents. Sometimes she will complain that other headbands are too tight, but today she said the headband from
Sweetest Bug Bows
was comfortable and didn't hurt her ears. We will definitely be purchasing many more bows from Sweetest Bug Bows for all three of my daughters!
Sweetest Bug Bows is sponsoring a giveaway through We Think Pink 365. You will have a chance to win any item from her shop
Sweetest Bug Bows
. All you need to do is complete the entry form below.
Guess what!
Sweetest Bug Bows
is also offering a coupon for 15% off any purchase if you enter the coupon code WETHINKPINK15 at checkout.
a Rafflecopter giveaway